CariBeans Chocolate Forest Experience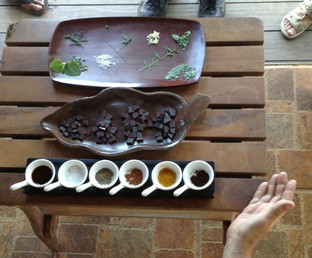 Duration: 3 Hours (approx.)
Location: Puerto Viejo de Talamanca
Product code: PLATFY
After meeting at the CariBeans Chocolate Tasting Lounge, your tour starts with a hike through the cacao forest, seeing the cacao tree restoration project and learning the history of cacao and chocolate. You will see wildlife along the way including dart frogs, sloths, monkeys, toucans, parrots etc.

CariBeans shows their guests how they harvest, ferment and dry the cacao to add value to the raw pod. They contrast themselves with the industrial side of the chocolate world by demonstrating their generous trade philosophy and community improvement vision. They are a micro batch single origin/source chocolate maker and have the unique opportunity to make fine chocolate from their own trees.
The tour leads you to a stunning ocean view rancho where you will do a chocolate tasting, much like a wine tasting. You will first get served the traditional Aztec chocolate drink, then finish the tasting with a buffet where you mix fresh herbs and spices with chocolate to combine an endless array of flavors. Last but not least you will hike down to the Chocolate Creation Lab to demonstrate a hands on experience of the bean to bar process.


Smell the aromas and taste the transformation from raw cocoa bean to fine tempered chocolate.
rates subject to VAT Tax