Sansa Airlines Flight from San Jose to Tortuguero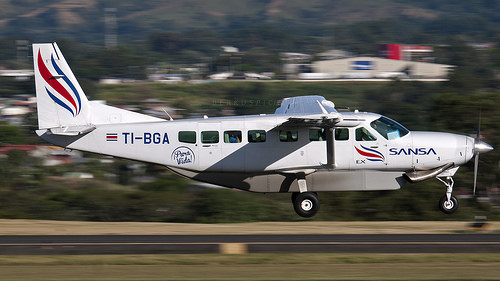 Duration: 45 Minutes (approx.)
Location: Alajuela
Product code: PXB3T0
The rates subject to change
Change of Dates
Changes on
itinerary are allowed 48 hours before departure time and there is a fee
of $15 per change made, the new departure date must not be 6 months
after the original date.
If the reservation is made within 48
hours before departure time, the itinerary cannot be changed. Penalty
for no show is 100% of all applicable fares, taxes and surcharges.
BaggageBaggage Allowance
SANSA
(flights operated on Cessna Grand Caravan): 1 piece with maximum weight
of 30 lbs. /14 kgs and up to 45 linear inches / 114 cm. (length +
height + width).

Carry-On Baggage
You are permitted to carry one piece with a maximum weight of 10 lbs/4.5 Kg. 20 linear inches/ 50 cm (length + height + width).In addition, each passenger may take one of the following items into the cabin under their own care and at no additional cost:
Ladies purse/handbag.
Books.
Items to be consumed by infants during the trip.
Coat or Blanket.
Camera or binoculars.
Laptop.
In case of limited space in the cabin, you may be required to check your luggage.



Excess Baggage Charge
Anything exceeding the free
baggage allowance is considered as excess baggage and can only be
transported by paying an additional fee for it. Overweight and
additional baggage is transported subject to available space on the
plane. Additional charge applies per pound: $1.00 USD.

Sports Equipment
You
can check sport equipment as part of your free baggage allowance, if
you check it as an extra piece (in addition to your free baggage
allowance), oversize or overweight charges may apply, as well as subject
to space availability. One of the following sports equipment is
permitted per passenger with a $30 charge each way:
Fishing: 2 fishing rods, 1 pair of boots, 1 net.
Golf: 1 golf club bag (up to 62 inches) with up to 14 clubs, 12 golf balls and 1 pair of golf shoes packed in the bag.
Diving: 1 air regulator, 1 pair of rubber fins, 1 conventional harpoon, 1 diving mask, 1 wet suit and 1 weight belt.
Archery: 1 bow plus arrows, packed in a bag designed for this purpose.
Ski: 2 poles, 1pair of skis, boots and shoes.
Bikes:
We do accept 1 bike in a proper protective bag; all bikes are subject
to space and weight availability, wheels must be de-inflated for
transportation.

Surfboards
Dimensions Maximum length 6.7 pies/2 mts.
Amounts 1 surfboard per passenger, per flight.
Charges $30 USD per way, per surfboard.
Handle The surfboards are not part of the baggage allowance and are considered subject to space.x|x|
Useful tips to pack your surfboardsFins must be removed.
Neither clothing nor any other articles are permitted inside the surfboard bags.
Damaged packaging and/or packaging not resistant to normal handling are not accepted.
Damaged surfboards are not accepted either.


You may not transport as part of your baggage:
Windsurfing boards.
Kayaks
Surfboards exceeding 7ft/2.1mts in length.
Diving tanks.


Tips for Packing
Pack any and all valuable articles (money, jewelry, electronic devices, etc.) in your carry-on baggage.
Identify
your baggage with the free baggage tags available at our check-in
counters. Be sure to include your name, address and a telephone number
where you can be located if necessary.
Avoid excess baggage charges by complying with weight and size requirements.
Present
any damaged baggage claims before leaving the airport. Please note that
SANSA is not responsible for minor damages (such as scratches, dents,
lost wheels, etc.), caused by normal handling or overstuffed bags.
Do not transport perishable goods.
Claim your baggage by the tag number and not just for their appearance.
Cancelations & Refunds
Tickets are issued in the name of a specific person and are not transferable, not endorsable and non-refundable.
The carrier may check the identity of the passenger at any given time.
The
rules and limitations regarding liability are set by the law of the
Civil Aviation Authority of Costa Rica. The Company reserves the right
to cancel or postpone a journey free of liability on its part, when it
must attend preferential obligations, such as the transfer of sick or
injured persons, due to bad weather, or for any other cause for which it
deems the suspension necessary, for passenger safety or to protect the
Company 's interests. As a consequence, the Company does not assume the
inevitable obligation of transporting the passenger on the precise day
indicated on this ticket for the trip or for a specified flight.
Furthermore, it reserves the right of not accepting passengers that
arrive for the flight in abnormal circumstances that may place the
security of the remainder passengers at risk, or that may cause them any
type of nuisance.